.
Large mature tree at Whangarei, Parahaki Reserve, New Zealand [Trevor Hinchliffe].

.
Young tree at Whangarei, Parahaki Reserve, New Zealand [Trevor Hinchliffe].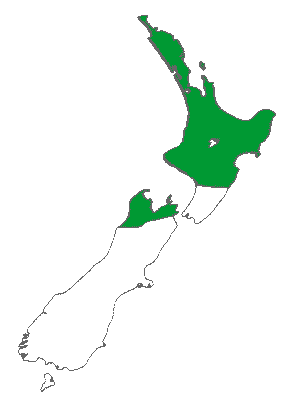 Distribution map (Metcalf 2002).

.
Foliage and male cones on a tree at Whangarei, Parahaki Reserve, New Zealand [Trevor Hinchliffe].

Bark on a tree at Whangarei, Parahaki Reserve, New Zealand [Trevor Hinchliffe].

Phyllocladus trichomanoides
Common names
Tanekaha (Maori), Celery pine (Salmon 1996).
Taxonomic notes
Syn: P. rhomboidalis A. Rich. 1832 (Allan 1961). "Hybrids have been suspected between P. glaucus and P. trichomanoides, but both species are polymorphic and their life histories have not been adequately worked out" (Allan 1961).
Description
Monoecious pyramidal forest tree up to 20 m tall and 100 cm dbh. Slender spreading branches arise in whorls. Leaves of juveniles up to 2 cm long, narrow-linear, reddish-brown, deciduous; of adults much smaller, represented on the adult tree by a tiny scale at the base of each phylloclade. Phylloclades alternate, up to 2.5 cm long, pinnately arranged on whorled rhachides up to 30 cm long. Phylloclades 10-15 per rhachis (giving it the appearance of a celery leaf - hence its common name), irregularly and broadly rhomboid, flabellately lobed, cuneate at base; lobes obtuse to truncate, margins minutely crenulate; leaf-denticles small, subulate, 1.5-3 mm long, up to 1.5 mm wide. Pollen cones terminal in cluster of 5-10, pedicels 3-10 mm long; staminal portion ca. 1 cm long, apiculus small, triquetrous; deep purple at first, changing to crimson as they mature and ripen. The reduced female cones, comprising normally one or two ovules within cup-like bracts, arise on modified phylloclades at the tips of the branches. Seeds are nutlike, exserted beyond an irregularly crenulate cupule, ca. 3 mm long (Allan 1961, Salmon 1996).
It is readily distinguished from P. toatoa by the size of the phylloclades, which are much larger on P. toatoa.
Distribution and Ecology
New Zealand: N Cape (N Island) and northern Marlborough and Nelson districts, extending to nearly lat. 42° on west of the S Island; in lowland forest up to 800 m above sea level (Allan 1961, Salmon 1996). Based on data from 1120 collection localities, its climate preferences include a mean annual temperature of 9°C, with an average minimum in the coldest month of -1°C, and a mean annual precipitation of 2700 mm (Biffin et al. 2011, Table S5). Hardy to Zone 9 (cold hardiness limit between -6.6°C and -1.1°C) (Bannister and Neuner 2001).
Big tree
Oldest
Dendrochronology
Four tree-ring chronologies were collected in the early 1970s by the American Peter Dunwiddie in what was evidently the first exploration of the dendrochronological characteristics of the species (Dunwiddie 1979). Shortly thereafter, the Australians and New Zealanders began work in the area, assembling chronologies for a variety of native gymnosperms and successfully applying them to a variety of problems in work summarized by D.A. Norton, John Ogden and J.G. Palmer (Norton & Palmer 1992, Palmer & Ogden 1992). Since that time, it has become the most intensively used New Zealand species, used in dating an eruption of the volcano Taupo (Sparks et al. 1995) and a variety of dendroclimatic studies (Palmer 1989, Murphy & Palmer 1992, Salinger et al. 1994).
Ethnobotany
The close-grained wood is yellowish-white and is one of the most elastic timbers known in the world. Strong, durable and readily worked to a smooth finish, the wood of the tanekaha tree has been used for making fishing rods and even bridge building (Salmon 1996).
Observations
Salmon (1996) reports that fine stands occur near Tihoi, west Taupo, and in the Waipari Valley near the headwaters of the Waihou River. Trevor Hinchliffe, as these photographs show, found it in the Parahaki Reserve at Whangarei, and I found it common in the Kaueranga Valley, about 15 km west of Thames on the Coromandel Peninsula.
Remarks
Citations
See also
The New Zealand Plant Conservation Network, accessed 2010.11.22.