This is very much a work in progress. Just a few rules:
1. I assume that you know what you are doing. Motorcycling is an inherently dangerous activity, as are many (most?) of the fun things you can do outdoors. I put it in the same risk category as whitewater canoeing and technical mountaineering, a couple of other things I do with my spare time. As with these other sports, you must have appropriate equipment and you must seek formal training in order to get the necessary level of expertise. I do not recommend that you actually do any of these rides. If you choose to do any of them, the risk and rewards are yours alone.
2. I have ridden every ride shown here. In most cases I include the date. Roads change, and especially in mountainous regions, they sometimes change for the worse. Every winter brings its washouts and closures, and some last for years. Some are never repaired. So I suggest that if you want to go on a ride listed here, especially one that goes on Forest Service or other backcountry roads, you should check to confirm that the road is open.
3. I do quite a bit of riding and not a lot of Web programming. Programming is time-consuming. So if this site is a little rough, bear with me. I'll fix it when the rains come again. But if you do find errors, please drop me a line, and I'll try to fix them. My contact information is on every page.
4. I do recommend one book, and only one book, that describes motorcycle tours in Washington. It's called Destination Highways Washington. It has lots of useful information, especially if you're an out-of-state rider coming to Washington, and every ride in it is a good one (at least, the 90% or so that I've done). There are some great rides that aren't in the book, and it doesn't cover rides off the pavement, but there's nothing better between two covers.
5. This site includes some rides that go off-pavement, onto gravel and/or dirt. It doesn't include any single-track rides. I usually refer to these as "GS" rides. All such bits of road are identified, to the best of my recollection. Note that many rural "paved" roads in Washington are chip-sealed and so you can expect to occasionally encounter gravelly bits on paved roads.
6. These descriptions are all in the form of GPX files, which is the most universal file format for GPS, readable by most GPS receivers and many smartphone GPS apps. You can also open GPX files with Google Earth to see the track file for the ride, and the waypoints.
The Rides
North Cascades Highway
Often called the best ride in the state. Unless you're coming from the north, the approach via Darrington, shown here, is best, and this route has a nice byway that avoids Highway 20 from Rockport to Marblemount. Note that the highway is usually closed from about November 1 to May 15. Total distance 228 km.

The GPX file (right-click, Save Link As...). Ride date 2008.08.16. Last update 2015.07.05.
Ellensburg to Wenatchee
This is definitely a GS run, with most of the trip on gravel and dirt. Route may be closed by snow from mid October into early July. But, an exhilarating trip through some little-seen country.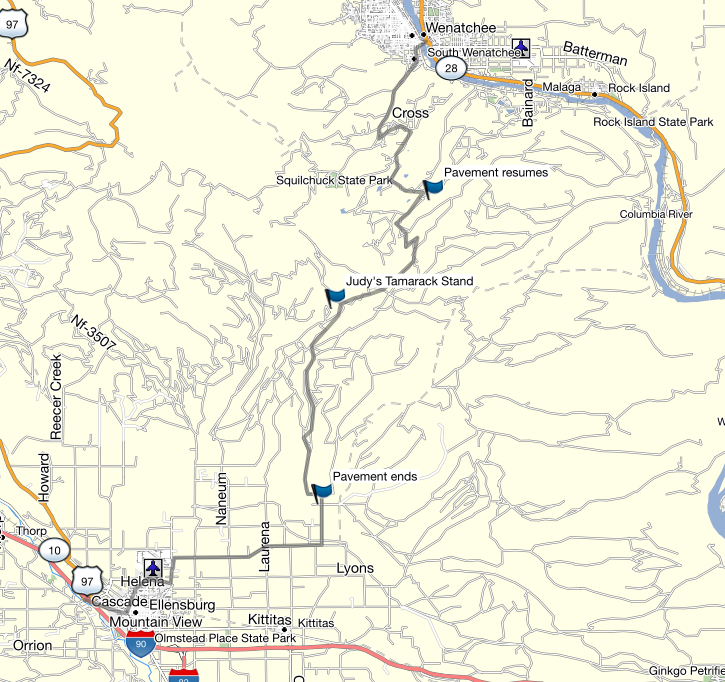 The GPX file (right-click, Save Link As...). Ride date 2007.06.09. Last update 2008.11.16.
Portland to Seattle: The High Road
Although this trip stays in the mountains and much is on forest roads, the whole thing is paved. When I did it in early June, it was all open, but had walls of snow along much of the roadway. The side trip to Windy Ridge is not to be missed.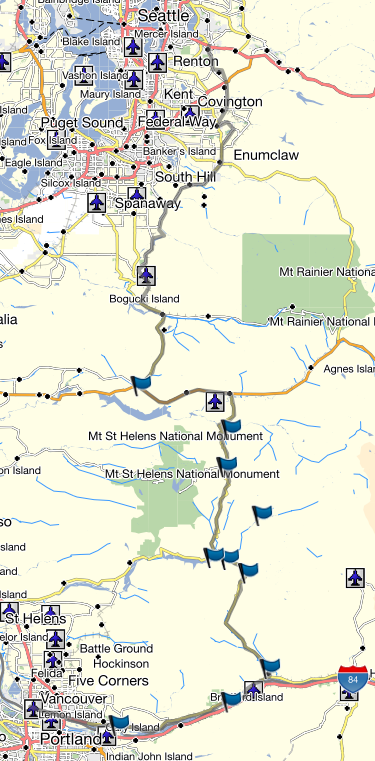 The GPX file (right-click, Save Link As...). Ride date 2007.06.03. Last update 2014.
Walla Walla to Clarkston: The High Road
Most people take US 12 from Walla Walla to Clarkston. It's a nice ride, and I recommend it. This route, though, crosses the Blue Mountains into Oregon, rides along the north side of the Wallowas, re-enters Washington on one of the emptiest roads in the state, to finally come down to the Snake River at Clarkston. When I rode it in April, it was cold, but all the passes were clear and dry. Total distance 305 km.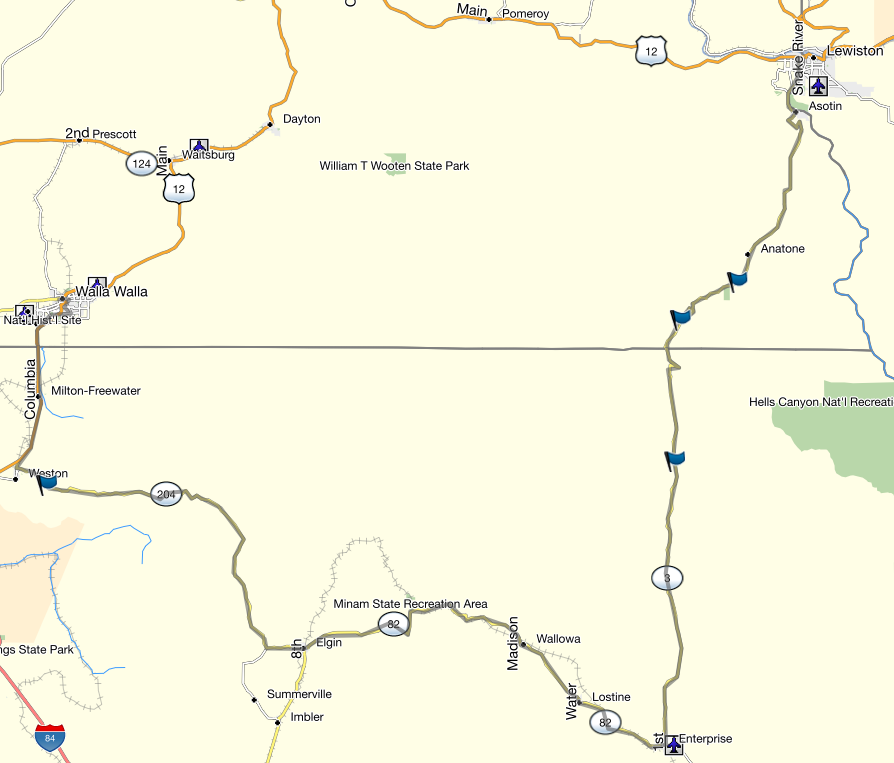 The GPX file (right-click, Save Link As...). Ride date 2008.04.26. Last update 2008.11.16.
My Backyard
Some Other Great Rides
I've ridden all of these, but they are for the most part too simple to even need detailed documentation. All are highly recommended for their scenery and/or the quality of the motorcycling.
All of US 101, from Astoria to Olympia. It's a bit drab in spots but generally a very consistently interesting road. Where a parallel secondary road will take you closer to the coast, take it, but don't miss the ride along Lake Crescent in Olympic National Park.
All of WA 20. Hugely diverse, crossing the state from west to east, mostly mountainous but includes a ferry ride and some historic old towns. If someone were looking for one ride to do in Washington, this would be it.
All of WA 14, which threads along the Columbia River Gorge from Vancouver to McNary. The easternmost part is a little drab, but still the best way to get across that part of the state on a motorcycle. Don't miss the Stonehenge replica at Maryhill.
All of WA 4, which runs down the Columbia River from Longview to its mouth.
All of US 12, which runs from Aberdeen to I-5, then jogs down I-5 a ways before heading east over White Pass (very scenic with lots of fast curves). Changes to drab slab from Yakima to Pasco, but still a fast way to get over that relatively empty part of the state, and then it enters the hills of the Palouse with the Blue Mountains rising to the south for a scenic 100 miles to Clarkston. If you want to keep going, US 12 in Idaho is a fabulous ride up the Clearwater and over Lolo Pass. It merges with I-90 in Missoula and gets ugly for awhile, but then things pick up in Garrison, MT and it stays interesting, as such things go, all the way to Minneapolis.
Stevens Pass: US 2 from Gold Bar to Leavenworth. Very scenic, lots of fast curves, but heavily traveled. US 2 stays moderately interesting to Waterville, especially the final climb up through Waterville Canyon. After that it becomes very flat and very straight for almost all the way to Idaho. Once into Idaho, by the way, it gets good again, and is still a reasonably memorable ride all the way across Montana and into North Dakota (over 600 miles from the Idaho line).
Chinook Pass from Greenwater to Naches. Gorgeous ride. Many superb GS rides in this area as well, on both sides of the highway but especially up the valley of the Little Naches River.
Chuckanut Drive from Bellingham to Bow. Short, scenic and twisty. Tends to be crowded on nice weekend afternoons.
The road to the summit of Mt. Constitution in Moran State Park on Orcas Island. Also short, scenic, twisty and crowded. While you're out there, most of the other roads of the San Juans are fun on a bike.
WA 542 from Deming to Mount Baker Lodge. A fine twisty ride through the mountains, usually less crowded than the main roads crossing passes in the Cascade Range.
The Mountain Loop Highway from Granite Falls to Darrington. This was closed for several years, since the huge storm in October 2003, but reopened on October 26, 2008. There are still a number of miles on gravel.
All roads in Mount Rainier National Park (except the gravel road in to Mowich Lake). Very popular (with good reason); I suggest you get a very early start if you want to really enjoy the riding. This advice also goes for:
WA 504 from Kid Valley to the road's end at Mt. St. Helens.
The Hurricane Ridge Road from Port Angeles to Hurricane Ridge.
The Obstruction Point Road from Hurricane Ridge to Obstruction Point. GS ride on gravel.
The Harts Pass Road from Mazama to Slate Peak. GS ride on gravel.
The road up Steptoe Butte from Colfax. Short but unusual, hence memorable.
Canyon Road from Ellensburg to Yakima. Exhilarating. Link it up with WA 10 from Cle Elum to Ellensburg, and then the Chinook Pass Road, for a superb one-day loop out of Seattle.
WA 21 from Wilbur to Grand Forks. The rest of WA 21 (Kahlotus to Wilbur) is also nice, if you like wheat.
Pretty much all the paved roads in the Palouse Hills.